Emulith
Emulith is a functional emulation of the ETH Lilith Modula2 computer. Its is programmed by Jos Dreesen, owner of one of the few remaining operational Lilith's.
The Lilith emulator Emulith is a functional equivalent of the actual Lilith hardware, uses unchanged microcode and disk images of the real machine and gives a reasonable good idea of what the real Lilith looks like. High resolution display, cartridge disk, mouse and keyboard are all part of the emulation. Not covered (yet ?) are RS232, Ethernet and printer interface.
The following hardware and software is needed to run Emulith :
– A reasonable fast PC ( > 1 GHz) running Linux. Ubuntu is fine, even the Live cD.
– Minimal screen resolution of 1280x1024 ( The Lilith itself has a 704x928 resolution.
– Some willingness to read documentation : the Lilith is a 25 year old system and its
usage is not comparable with current operating systems. A Lilith manual is part of the documentation.
The performance of Emulith on a 1 GHz machine is comparable with the real hardware, which used a 7 Mhz main clock. Any operation involving the disk is considerably faster on the emulator.
Download the emulator (check for new versions!) at the Emulith ftp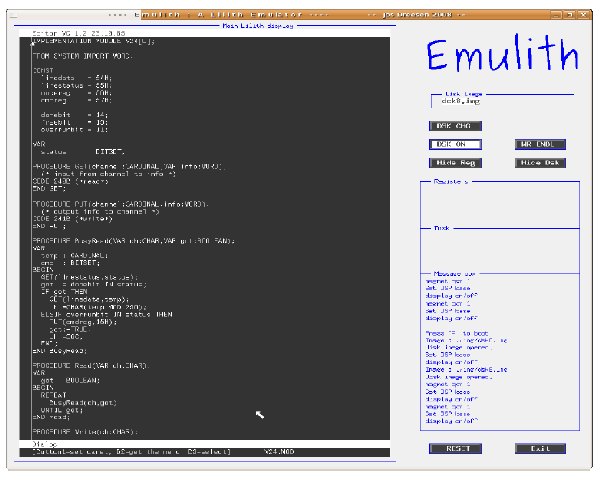 ---